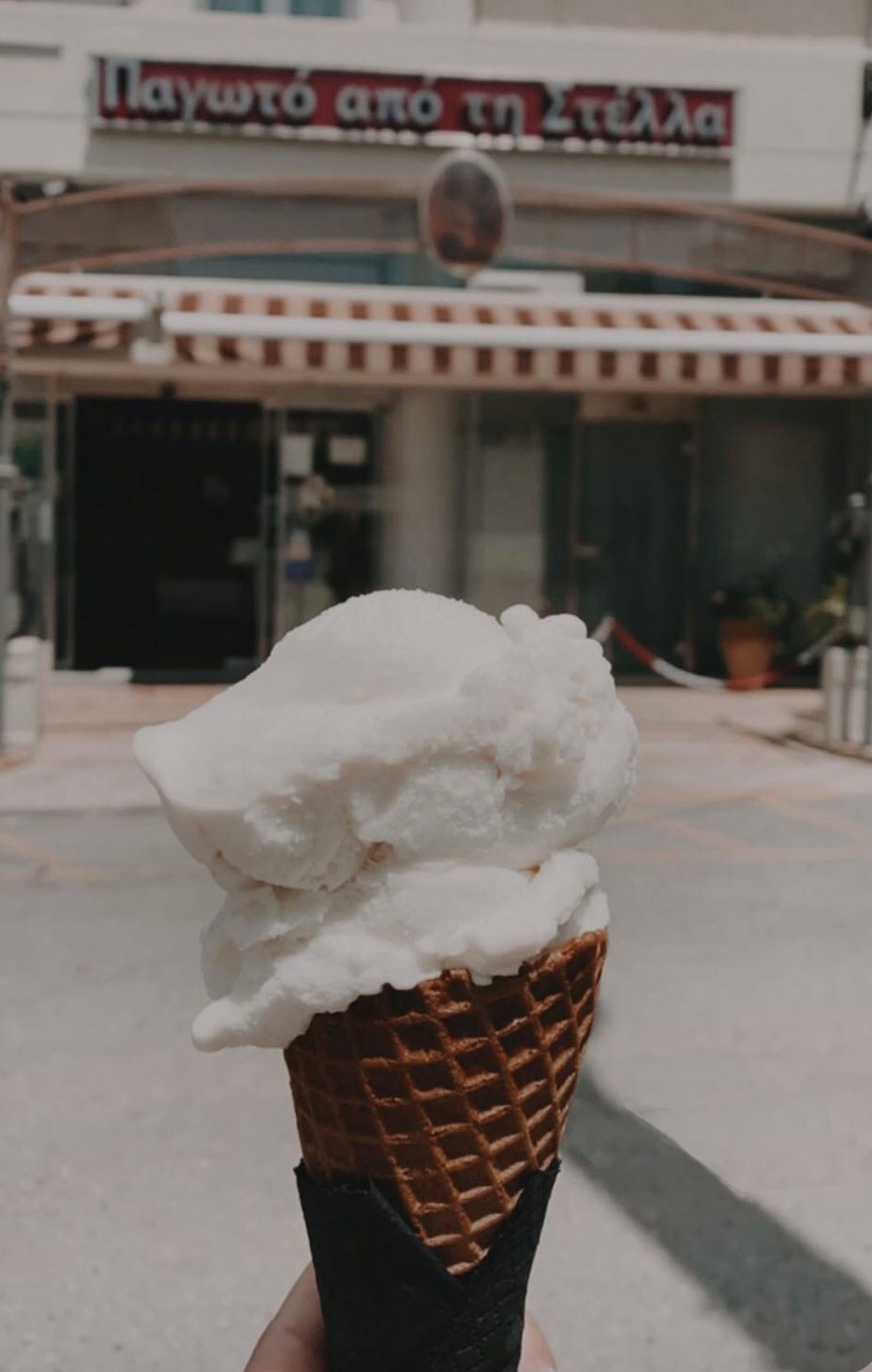 Stella started making gelato many years ago at the family estate that works as an agrotouristic unit, in order to offer her family and guests a healthy dessert of high nutritional value. She experimented a lot because having only the basic means and as raw material just the milk from her farm, without eggs, gelling agents, cream, milk powder, vegetable fats or other ready-made bases, making gelato was not easy.
PRODUCTION - DEVELOPMENT
Stella and her daughter Despoina attend seminars abroad and are informed in international exhibitions, about the ready raw materials that are available in the trade but also the authentic ones (milk, fruit, sugars, cocoa and its products, etc.). This interest comes from their desire to know better not only the nutritional value of all the above but also their physical and chemical properties and how they work or change during the preparation and making gelato, with Stella's unique recipes. Moreover, being informed about the new and easy-to-use ingredients that are available for the gelato industry makes them even more proud that they do not give in to the conveniences and persist in the traditional and more difficult way.
"Pagoto apo ti Stella" is produced daily in small quantities. Regarding the physical and chemical properties it is a cool and creamy product which consists of liquid and solid materials in balance. The mathematical equations bring in balance the raw materials, ie milk, sugar, fruits or chocolate and nuts are complex and very important so that the final product is a food of high nutritional value with all the required characteristics.
PHILOSOPHY
Stella's philosophy and standards continue to remain strict. The only goal is the preparation of authentic and healthy gelato, entirely handmade with main ingredient the fresh milk so that there is a volume-weight ratio. During the preparation of gelato in the mixture there is no added cream, milk powder, artificial colorings and flavorings, eggs, butter or vegetable fats. Also, "Pagoto apo ti Stella" does not contain gelling agents and ready-made flavor bases. The recipes are adapted not only to the criteria required for the product to be characterized as gelato but also to nutritional criteria that meet specific nutritional needs (allergies, intolerances, high blood glucose, high blood lipids).
"Pagoto apo ti Stella" is made with knowledge and art and is entirely handmade to ensure the high quality and the volume/weight ratio. Apart from the passion and tradition in its preparation also the know-how, the science, and the real interest to offer our customers the highest quality and healthiest ice cream are "added". "Pagoto apo ti Stella" is a food of high nutritional value with fine ingredients that can be consumed daily in the context of a balanced diet and a healthy lifestyle.
RAW MATERIALS
"Pagoto apo ti Stella" apart from cow's milk it may contain goat's, sheep's or buffalo's milk. It also contains salep, real chocolate, nuts of exceptional quality, fresh fruit, handmade fruit jams and natural spices. Where possible, products from local and Greek producers are used, while some have a protected designation of origin.